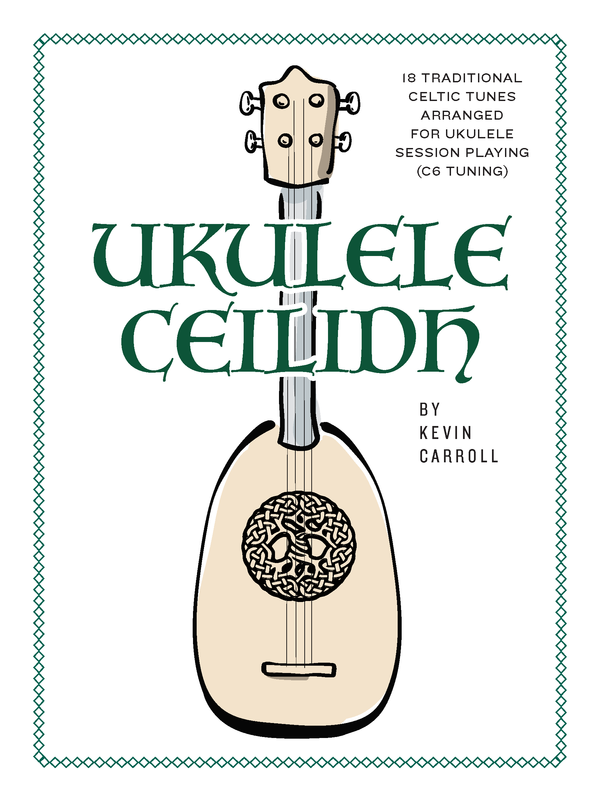 PDF Version Available Now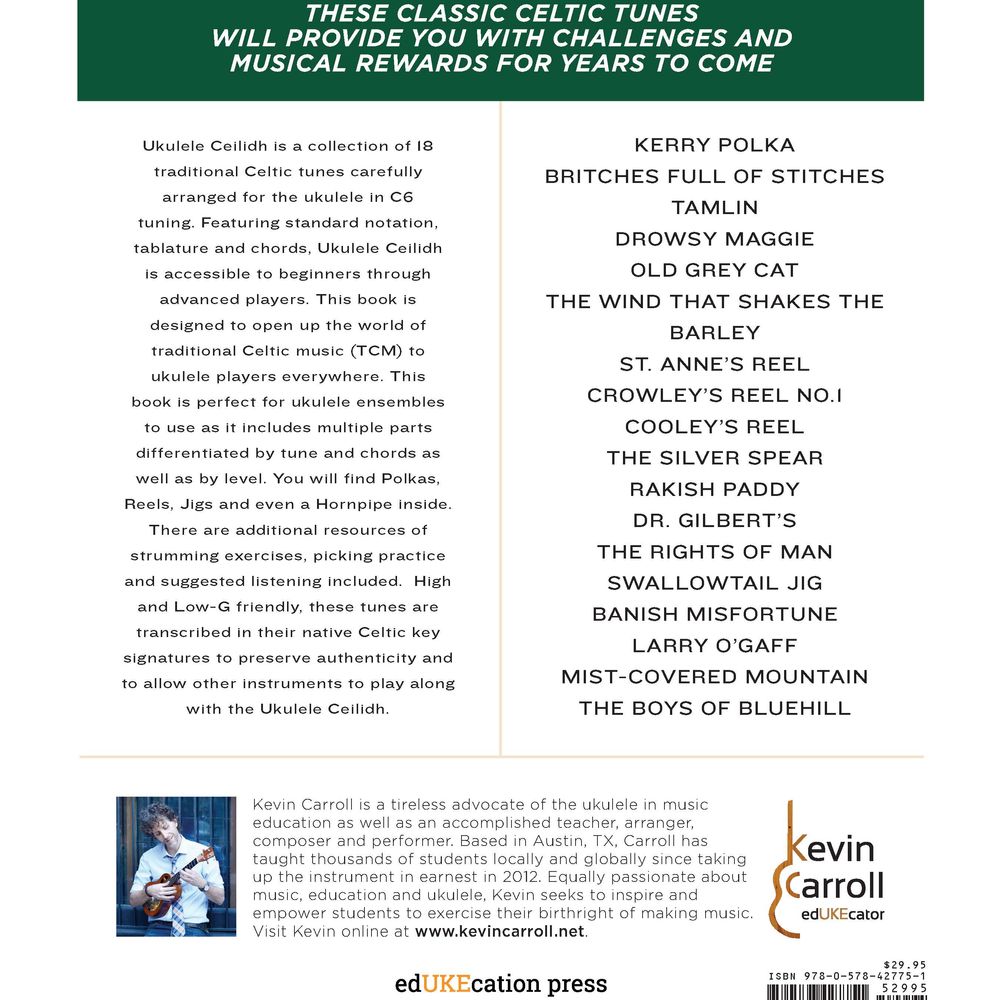 What is a Ukulele Ceilidh?
Ukulele: (pronounced oo-koo-lay-lay) a small four-stringed instrument of Hawaiian and Portuguese origin.
Ceilidh: (pronounced kay-lee) a social event at which there is Traditional Celtic folk music playing, dancing and storytelling.
Ukulele Ceilidh: a gathering of ukulele players (other instruments are welcome, too!) to play Traditional Celtic Music
18 traditional tunes in C6 tuning (GCEA) featuring standard notation and tab with chords. Accessible to beginners through advanced players, this book is designed to open up the world of traditional Celtic music to ukulele players everywhere.
The spirit and tone of Hawaii's diminutive instrument meshes well with these traditional Celtic tunes. Ceilidh is a Gaelic word for a gathering that includes playing music. My hope is that this book will get more people playing ukuleles together and experiencing the great joy of music!

Includes Polkas, Reels, Jigs and a Hornpipe.

Over 70 pages with picking and strumming exercises, chart of common chords. 9" x 12" Spiral-bound
Tunes include:
Swallowtail Jig
Banish Misfortune
The Wind that Shakes the Barley
Drowsy Maggie
Kerry Polka
St. Anne's Reel
Tamlin
Rakish Paddy
The Boys of Bluehill
Crowley's Reel No. 1 and 8 more
$29.95 (plus shipping and handling)
---
Hi Kevin,
I got your Ukulele Ceilidh book in the mail a few weeks ago and am really enjoying it. I grew up playing the fiddle and one of the things that I often wished the tune books included was chords. Often if there were chords, it seemed like they were an after thought. I really appreciate that your book includes the chords and I am enjoying the beautiful chord voicings you chose for the tunes I've played so far.
I made a little video of the A part of Drowsy Maggie. I thought you might enjoy seeing it. I used an app called Acapella that allows you to record multiple video and audio tracks. So, I recorded the melody and accompaniment. ?
Thanks for a great book!
- Catherine G. Toronto, ON Canada
---
Hi Kevin,
Nice job on Ukulele Ceilidh! I've enjoyed playing through the tunes.  The flatpicking exercises were very helpful.
Congratulations on the book!
- Anne L. Corvalis, OR
---
Hi Kevin,
Thanks for your ceilidh book. There are some really lovely uke arrangements in there, which will be challenging and rewarding to learn! Thank you for making this wonderful resource available to the world of uke players!
All the very best,
- Ewen C. Fife, Scotland
Swallowtail Jig on Beansprout Tenor Banjo Ukulele
Here's Catherine playing Drowsy Maggie