Thanks for taking the time to learn more about me and my story!
I have been playing music for almost my entire life. My professional "career" started in Boise, ID in the mid-1980's and continues today. Ukulele has become my instrument of choice since 2012. I say instrument of choice because I feel that the ukulele chose me to learn and to teach it.
It all began with a shoulder injury that led me to a PT who offered a trade for my post-surgery recovery if I taught his daughter ukulele. Little did I know, roughly a decade later, that I would be doing nothing but teaching, arranging, writing books, composing and enjoying the beautifully generous souls because of this serendipitous injury.
The possibilities are limitless with this diminutive, 4-stringed instrument. I'd love to open some of those doors to you when you are ready!
Below is the 3rd person version and a newspaper article from The Austin-American Stateman.
---
Kevin Carroll is a certified State of Texas Elementary Educator; a member of the Texas Music Educators Association; an instructor at ukulele workshops around the world;  a performing and recording artist; and a teacher of both private and group music lessons to all ages and levels in Austin, TX. 

Equally passionate about music, education and ukulele, Kevin seeks to inspire and empower students to exercise their birthright of making music.  Kevin has recently completed all three years of course study in the James Hill Ukulele Initiative Teacher Certification Program and has been hired as teacher in the highly esteemed program.  This training has served to make Ukulele in the Classroom a popular and successful learning approach in Austin.

Kevin's scope of teaching includes Texas-based music, blues, soul, funk, Celtic, Classical, African, differentiated ukulele ensembles, and beginners of all ages.  He has been a resident of Austin, TX for over 20 years where he has played guitar and toured across the globe with Americana artists such as the Flatlanders (Joe Ely, Butch Hancock and Jimmie Dale Gilmore), Jimmy LaFave,  Alejandro Escovedo, Robyn Ludwick , Charlie and Bruce Robison and many others. 

In addition to leading his own groups as a singer-songwriter, Kevin has produced albums and written songs for several Austin artists. 
Press Kit

Here is a feature in the Austin-American Statesman (April 25, 2014):
Former roots rock guitarist discovered the instrument's spiritual qualities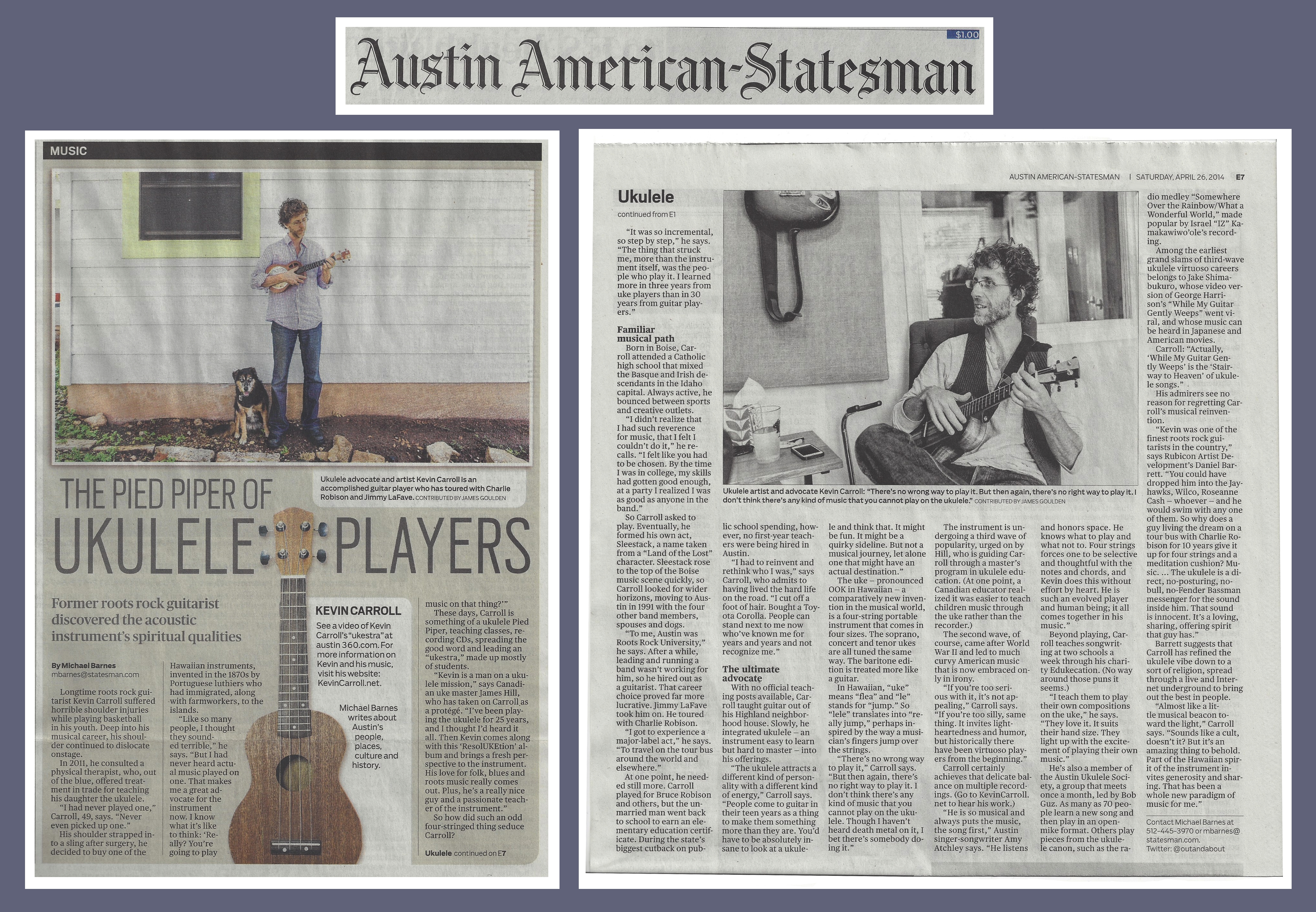 Kevin Carroll is the Pied Piper of ukulele players
Former roots rock guitarist discovered the instrument's spiritual qualities
By Michael Barnes - American-Statesman Staff

Longtime roots rock guitarist Kevin Carroll suffered horrible shoulder injuries while playing basketball in his youth. Deep into his musical career, his shoulder continued to dislocate onstage.
In 2011, he consulted a physical therapist, who, out of the blue, offered treatment in trade for teaching his daughter the ukulele.

Ukulele advocate and artist Kevin Carroll is an accomplished guitar player who has toured with Charlie Robison and Jimmy LaFave.
"I had never played one," Carroll, 49, says. "Never even picked up one."
His shoulder strapped into a sling after surgery, he decided to buy one of the Hawaiian instruments, invented in the 1870s by Portuguese luthiers who had immigrated, along with farmworkers, to the islands.
"Like so many people, I thought they sounded terrible," he says. "But I had never heard actual music played on one. That makes me a great advocate for the instrument now. I know what it's like to think: 'Really? You're going to play music on that thing?'"
These days, Carroll is something of a ukulele Pied Piper, teaching classes, recording CDs, spreading the good word and leading an "ukestra," made up mostly of students.
"Kevin is a man on a ukulele mission," says Canadian uke master James Hill, who has taken on Carroll as a protégé. "I've been playing the ukulele for 25 years, and I thought I'd heard it all. Then Kevin comes along with this 'ResolUKEtion' album and brings a fresh perspective to the instrument. His love for folk, blues and roots music really comes out. Plus, he's a really nice guy and a passionate teacher of the instrument."
So how did such an odd four-stringed thing seduce Carroll?
"It was so incremental, so step by step," he says. "The thing that struck me, more than the instrument itself, was the people who play it. I learned more in three years from uke players than in 30 years from guitar players."

Familiar musical path
Born in Boise, Carroll attended a Catholic high school that mixed the Basque and Irish descendants in the Idaho capital. Always active, he bounced between sports and creative outlets.
"I didn't realize that I had such reverence for music, that I felt I couldn't do it," he recalls. "I felt like you had to be chosen. By the time I was in college, my skills had gotten good enough, at a party I realized I was as good as anyone in the band."
So Carroll asked to play. Eventually, he formed his own act, the Sleestacks, a name taken from a "Land of the Lost" character. The Sleestacks rose to the top of the Boise music scene quickly, so Carroll looked for wider horizons, moving to Austin in 1991 with the four other band members, spouses and dogs.
"To me, Austin was Roots Rock University," he says. After a while, leading and running a band wasn't working for him, so he hired out as a guitarist. That career choice proved far more lucrative. Jimmy LaFave took him on. He toured with Charlie Robison.
"I got to experience a major-label act," he says. "To travel on the tour bus around the world and elsewhere."
At one point, he needed still more. Carroll played for Bruce Robison and others, but the unmarried man went back to school to earn an elementary education certificate. During the state's biggest cutback on public school spending, however, no first-year teachers were being hired in Austin.
"I had to reinvent and rethink who I was," says Carroll, who admits to having lived the hard life on the road. "I cut off a foot of hair. Bought a Toyota Corolla. People can stand next to me now who've known me for years and years and not recognize me."

The ultimate advocate
With no official teaching posts available, Carroll taught guitar out of his Highland neighborhood house. Slowly, he integrated ukulele — an instrument easy to learn but hard to master — into his offerings.
"The ukulele attracts a different kind of personality with a different kind of energy," Carroll says. "People come to guitar in their teen years as a thing to make them something more than they are. You'd have to be absolutely insane to look at a ukulele and think that. It might be fun. It might be a quirky sideline. But not a musical journey, let alone one that might have an actual destination."
The uke — pronounced OOK in Hawaiian — a comparatively new invention in the musical world, is a four-string portable instrument that comes in four sizes. The soprano, concert and tenor ukes are all tuned the same way. The baritone edition is treated more like a guitar.
In Hawaiian, "uke" means "flea" and "le" stands for "jump." So "lele" translates into "really jump," perhaps inspired by the way a musician's fingers jump over the strings.
"There's no wrong way to play it," Carroll says. "But then again, there's no right way to play it. I don't think there's any kind of music that you cannot play on the ukulele. Though I haven't heard death metal on it, I bet there's somebody doing it."
The instrument is undergoing a third wave of popularity, urged on by Hill, who is guiding Carroll through a master's program in ukulele education. (At one point, a Canadian educator realized it was easier to teach children music through the uke rather than the recorder.)
The second wave, of course, came after World War II and led to much curvy American music that is now embraced only in irony.
"If you're too serious with it, it's not appealing," Carroll says. "If you're too silly, same thing. It invites lightheartedness and humor, but historically there have been virtuoso players from the beginning."
Carroll certainly achieves that delicate balance on multiple recordings. (Go to KevinCarroll.net to hear his work.)
"He is so musical and always puts the music, the song first," Austin singer-songwriter Amy Atchley says. "He listens and honors space. He knows what to play and what not to. Four strings forces one to be selective and thoughtful with the notes and chords, and Kevin does this without effort by heart. He is such an evolved player and human being; it all comes together in his music."
Beyond playing, Carroll teaches songwriting at two schools a week through his charity Edukecation. (No way around those puns it seems.)
"I teach them to play their own compositions on the uke," he says. "They love it. It suits their hand size. They light up with the excitement of playing their own music."
He's also a member of the Austin Ukulele Society, a group that meets once a month, led by Bob Guz. As many as 70 people learn a new song and then play in an open-mike format. Others play pieces from the ukulele canon, such as the radio medley "Somewhere Over the Rainbow/What a Wonderful World," made popular by Israel "IZ" Kamakawiwo'ole's recording.
Among the earliest grand slams of third-wave ukulele virtuoso careers belongs to Jake Shimabukuro, whose video version of George Harrison's "While My Guitar Gently Weeps" went viral, and whose music can be heard in Japanese and American movies.
Carroll: "Actually, 'While My Guitar Gently Weeps' is the 'Stairway to Heaven' of ukulele songs."
His admirers see no reason for regretting Carroll's musical reinvention.
"Kevin was one of the finest roots rock guitarists in the country," says Rubicon Artist Development's Daniel Barrett. "You could have dropped him into the Jayhawks, Wilco, Roseanne Cash — whoever — and he would swim with any one of them. So why does a guy living the dream on a tour bus with Charlie Robison for 10 years give it up for four strings and a meditation cushion? Music. … The ukulele is a direct, no-posturing, no-bull, no-Fender Bassman messenger for the sound inside him. That sound is innocent. It's a loving, sharing, offering spirit that guy has."
Barrett suggests that Carroll has refined the ukulele vibe down to a sort of religion, spread through a live and Internet underground to bring out the best in people.
"Almost like a little musical beacon toward the light," Carroll says. "Sounds like a cult, doesn't it? But it's an amazing thing to behold. Part of the Hawaiian spirit of the instrument invites generosity and sharing. That has been a whole new paradigm of music for me."

Michael Barnes writes about Austin's people, places, culture and history.
See a video of Kevin Carroll's "ukestra" at austin360.com.
Carroll's website: KevinCarroll.net.
 
"Kevin is a man on a ukulele mission, I've been playing the ukulele for 25 years, and I thought I'd heard it all. Then Kevin comes along with this 'resolUKEtion' album and brings a fresh perspective to the instrument. His love for folk, blues and roots music really comes out. Plus, he's a really nice guy and a passionate teacher of the instrument."
-James Hill

"Kevin already has a well-deserved reputation as an excellent teacher, but let me add my own endorsement. If you are wanting to learn to play your ukulele you will be hard put to find a finer, more patient teacher. I highly recommend Kevin Carroll and his group classes to you."
V. F.- 9/2015

"Kevin Carroll.....was a joy to work with and received very high marks from the students. Thanks to him for helping us make the first pancake of the griddle actually taste great!"
-Mark Rubin, Music Camp Director Folk Alliance

 
Instagram
Facebook
Twitter
Affiliates